Dear SFL Alumni,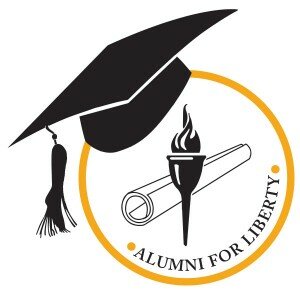 I would like to formally invite you to the 2015 International Students For LibertyConference, the world's largest gathering pro-liberty students and alumni. Part lecture hall, networking session, debate forum, and pep rally for liberty, the ISFLC is the can't miss event of the year. And now SFL's alumni association Alumni For Liberty will be offering more than ever.
Alumni For Liberty's mission is to both raise support for the student movement for liberty and provide support and services to our alumni members. Services such as career counseling and networking with your fellow alumni. With hundreds of SFL leaders graduating each year we are rapidly approaching a future were AFLers will occupy important positions out there in the "real world", and it is critical that we stay connected and united in our goal of creating a free society.
Our annual homecoming at the International Students For Liberty Conference is a great opportunity to do just that. All AFL members get free registration at the ISFLC, so sign up for AFL now to take advantage of this opportunity.
AFL will be hosting a series of events targeted at graduating seniors and recent alumni to connect our community and support their transition from student activists to lifelong advocates of liberty.
AFL Breakout Sessions @ ISFLC
Careers Panel  – College graduates face a myriad of possible career paths. Come learn from leaders in the business, policy, academic, non-profit and media communities who will discuss many of the options available and how recent grads can take the first steps down the road of building your career. Moderated by Tax Foundation Vice President Joseph Henchman.
Job Hunting 101 – Your first job hunt can be an overwhelming experience. This session focuses on practical advice on preparing, searching, applying for and landing your next job including tips on resumes, cover letters, interviews and general do's and don'ts of the job hunt. Moderated by SFL VP Clark Ruper
Communication Workshop – The notion "if I build it they will come" has always been wrong. No matter what you are selling you have to find and relate to your intended audience. Learn how to sell your ideas, your product, and most importantly yourself. Featuring Massachusetts Republican Party Deputy Field Director Nathan Fatal and Show-Me Cannabis Executive Director John Payne.
Navigating Academia – Many young libertarians dream of becoming a famous academic or inspiring professor. This is a noble goal but the path from undergrad through graduate school is a long and winding road. Presented by GMU PhD Fellow Liya Palagashvilli.
Discover Your Inner Entrepreneur – Entrepreneurship is the engine that drives the economy and social change. By definition there is no path to follow, you have to make your own. Presented by Praxis CEO Isaac Morehouse.
This of course will all be taking place alongside the ISFLC's world-class lineup of speakers from around the liberty movement and the world.
We will also be hosting our Annual AFL Homecoming Social on Saturday night with free drinks for AFL members.
As mentioned all current AFL members receive free registration to the International Conference. If you are a current member, awesome, register for the ISFLC now here.
If you are not in AFL yet now is the time. Sign up for as little as $10 a month to support the student movement for liberty and take advantage of the free ISFLC registration and other benefits.
I am looking forward to seeing you there. If you have any questions regarding the ISFLC or Alumni For Liberty in general, just drop me a line.
Sincerely & For Liberty,
Clark Ruper
Vice President & Director of Alumni Relations